Passengers Suffer as Airlines Ramp Up Outsourcing
January 6, 2015
Increasingly, airline workers at US airports aren't employees of the carriers they represent.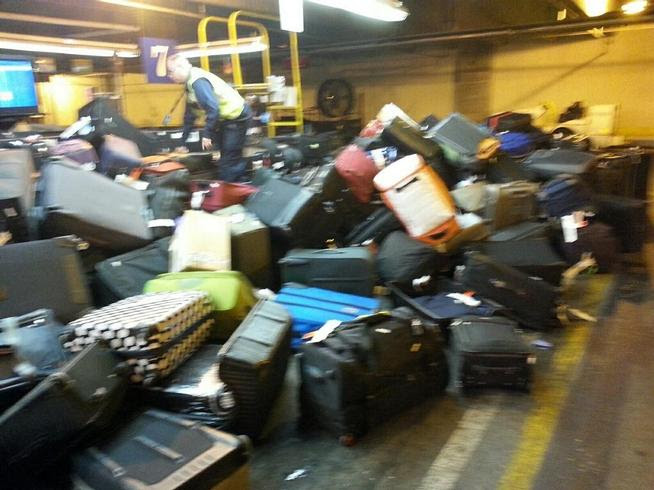 A photo of the United Express bagroom this week. Behind the scenes as to why passengers may not be getting their bags on time. (The Denver Post | 12/31/14)
Never was this more evident than at the baggage carousel over the holiday season.
United Airlines' ramp operations which handles bags at Denver International Airport were a good example of a system completely falling apart last week, with some passengers waiting hours to be reunited with their checked luggage.
Problems continue on today with
news
of hour and fifteen minute delays for checked bags.

Some pictures even show luggage being left on the tarmac overnight.
From the looks of things, United's decision to change ground handling at DEN
has turned into a major fiasco.
Minimize labor cost. Increase shareholder value. Maximize ROI.
United previously paid these workers between $12 to $24 per hour while the new vendor pays around $8 to $9 per hour, without benefits.
In announcing the cuts, a United spokesperson said the airline needed to keep its costs "competitive."
This latest reduction is just another assault by the airlines on the traveling public. Customers pay the same prices and same high bag fees yet must endure diminished airline service.
Lowering Expectations
Southwest Airlines employees protest at the Indianapolis International Airport, Dec. 16, 2014. Members of the Transit Workers Union, including those who work outside on the ramp, operations, cargo and provisioning, picketed at the airport saying they haven't had a contract in over 3 1/2 years.
Workers also staged informational picketing at airports in Dallas; Denver; Los Angeles/Ontario; Buffalo, New York; Cleveland; Detroit; Fort Myers, Fla.; Indianapolis; Milwaukee; Minneapolis; Pittsburgh; San Diego; San Jose, Calif.; and Seattle. (Photo: Kelly Wilkinson/The Star)
As FlyersRights has been
reporting
over the past year, United's action is part of a larger trend by the airlines and airports to hire outside vendors to replace employees.
Currently a large portion of check-in-agents at US airports do not work for the companies they are servicing.
It's common for the same employee at smaller airports to represent several different airlines.
Delta and Alaska Airlines are among the carriers outsourcing a large portion of their work.
Earlier this year Delta contracted out the jobs of 741 workers at the Detroit Metropolitan Airport to vendors paying near minimum wages.
Race To The Bottom
The question is, when you're United Airlines and consistently
at the bottom
of customer satisfaction ratings, why do this?
Instead of improving customer service, the aircraft, the food, or the on-time arrivals – United decides to cut costs.
Your Montreal Convention Rights
For nearly all international flights under the Montreal Convention of 1999, Airlines are liable for damages caused by delay in the transporting of passengers for up to $6,000, unless the airline proves that it took all reasonable measures to prevent the damage caused by delay or that it was impossible for them to take such measures.
No airline is permitted by contract to assert lower liability limits for international air travel, and any such contract terms are void.

Paul Hudson, FlyersRights.org noted, "Airlines and even the US DOT regularly manage to conceal this important right from passengers."
Epically Miserable:
Angry, Hungry SFO-Bound Passengers Left Inside Plane Stuck On Tarmac For 12+ Hours In Abu Dhabi
Here's a flashback to what air travel was like before FlyersRights. Imagine being stuck in a plane for more than a day.
This photo, provided by passenger Rithvik Reddy, shows a crew member speaking to the fliers
That was the nightmare for passengers in Abu Dhabi trying to make it to San Francisco last Saturday.
Etihad Airways Flight 183 was delayed on the tarmac for over 12 hours after fog forced the temporary closure of Abu Dhabi Airport on Saturday.
That, on top of the 16-hour flight to SFO, made passengers furious. All told, they spent more than 28 hours on the plane, AP reported.
The airline wouldn't allow passengers to get off or give them information, so hundreds took to social media to vent that they were hungry, sleep deprived, and never flying with the airline again.
It was their only option because the United Arab Emirates has no 3-Hour Tarmac Delay Rule, like in the US.
When the flight finally landed at SFO around 6:30 p.m. Saturday, one passenger, Vinay Ramakrishna said, "Out of every airline, this has been the worst experience in my life. There's no sanitation, they're out of water, out of tissues, out of apples, out of chocolates!"
If this had happened in the US, Etihad would be facing steep fines. As high as $27,500 per passenger after 3 hours on the tarmac for domestic flights; four hours for international flights.
Cartoon Of The Week:
Video of the Week: Worst Class
Flying Coach – Movie Trailer
Kate Hanni, founder
with Paul Hudson, President
Getting on a Plane?
Put This Number in Your Phone: